It is up to the Events Committee to organize inspiring, educational and fun events for our members. Our events are focused on embracing diversity and inclusivity! We strive to create a safe space where all of our members feel accepted, heard and comfortable to be themselves. Each event is based on a different topic that is relevant for students, some are focused on growth and development, while others serve a more relaxing and social purpose. Whether you want to share your perspective on relevant issues in society, or you want to meet like-minded students, our events are the place to be!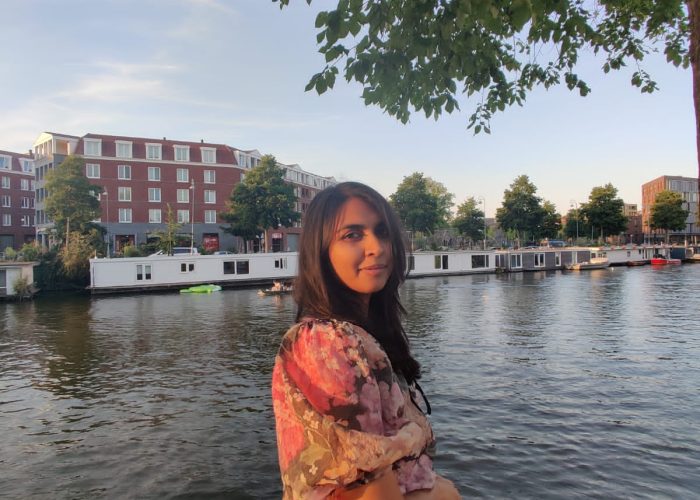 Keerthana Raghava
MPA
Vanakkam! I'm Keerthana Raghavan currently doing my MPA Master's at the VU. I enjoy dancing, playing badminton, and watching series & movies in my spare time. Am always on the lookout for new experiences and places to travel.
I'm from India🇮🇳.
I speak Tamil, and English and currently trying to learn Dutch.
When I first started my studies, I was a silent follower of FAM on social media and I admired the association's values and goals. As a result, I joined the Family and went to the Career Days that FAM held. FAM stands out from the other student organizations because they genuinely want to bring students of various backgrounds together and create opportunities for them. With FAM, I could freely express myself and interact with people from different origins. The ability to combine what I enjoy and what I believe in made the decision to join the Travel committee simple. It is my firm belief that cultural exchange benefits and enriches everyone and what better way to do it than travel?
Maria Camila Quiñonez Isaza
Political Sciences
My hobbies include reading and going to museums.
I'm Colombian and speak Spanish, Dutch and English.
Buenos días, my name is Camila. I'm 19 years old and studying political science at the VU.My reason for joining the Events Committee was that I very much enjoyed all the events from last year and I also wanted to be a part of the people that make such a safe and caring space for others.
Sara Rezvani Daryan
Political Sciences
My name is Sara and I'm 21 years old. I'm in my second year of Political Science at VU. I like to make pictures with my analogue camera in my free time and socialize with my friends.
I'm from Iranian descent so I speak a lil bit of Farsi 😅
I joined FAM because I did not really fit in the traditional student associations but still wanted to meet and connect with new people. FAM is a diverse and inclusive space which makes me feel at home 🙂
Maryam Elsoudany
Liberal Arts & Sciences
Hoi/salaam!😊 My name is Maryam, I'm 23 years old and I am happy to be a part of the events committee at FAM! I study pedagogical sciences at VU
I am half Dutch 🇱🇺 and half Egyptian 🇪🇬.
I don't always feel the space to express and experience both parts of my ethnicity. But during the pandemic I joined one of the FAM's events and felt super welcomed and had lovely conversations.☺ That's when I decided I wanted to be part of the association. By joining the events committee I hope to help bring people together from all different backgrounds to discuss, have fun and learn from & about each other. Hope to see you soon ☺✨
Carla Andrisan
Communication and Information
Reading, dancing, listening to music, going out for a walk with friends I'm a very passionate and focused person, always looking for new opportunities to improve and confront myself with other people and cultures.
I'm from Italy and speak Italian, English, Spanish and French.
Ciao👋🏻! My name is Carla and I am a first year Communication and Information student from Italy 🇮🇹 with a latin soul🇨🇴. I recently became part of the events committee 🎤📝here at FAM. One of the reasons that motivated me to join FAM was the diverse, open minded and welcoming community. Shortly after meeting some senior members, I decided to take part in a couple activities and I felt encouraged and willing to express my opinion freely, without being afraid of judgment. I was truly interested in engaging in fun and stimulating activities related to my field of interest.
To conclude, Fam is a wonderful place to meet other students 🎓📚 who share similar interests and look forward to positively influencing the future generations and society!
Trixie de Graaf
political science
Salamu aleikum/hoi/halo semua, Trixie here! I'm currently studying political science at VU and I've been part of the event committee since the beginning of this academic year. 

I'm Jakarta's original 🇮🇩 and was raised in the Netherlands since I was 6.
Growing up with very little family in the Netherlands, I was always longing to be part of a community. Therefore, I was looking for a student association that focuses on diversity and inclusion.
Since my parents didn't study in the Netherlands, I had many questions about it. Thankfully, I have had very supportive friends who also introduced me to FAM ♥️. When I first attended a FAM event, I was warmly welcomed by everyone and felt a great sense of belonging. That's when I decided to join FAM. I find FAM an amazing community to meet people from diverse backgrounds and to build friendships. I can't wait to see you all in the upcoming events! 🙂
Ngasholy Henriette
Law
Bon dia/Fawaka!! My name is Ngasholy and i am part of the Events Committee within fam🥳✨. I am in my second year of studying law at the VU 📚.
Im born and (mostly) raised in the Netherlands but my roots are in Curaçao 🇨🇼, Surinam🇸🇷/mixed with China 🇨🇳 , and a little bit of dutch too 🇳🇱( i know, its a lot🤣)
Growing up, it was sometimes hard being a multi-racial person because i didn't fit in any box and i was always searching for a place to be accepted for who i am instead of trying to fit the box. This is why i joined Fam :). The community is always welcoming everyone with open arms and accepts everyone for who they are and i wanted to be part of something with so much diversity yet still united. What i want to achieve within Fam is to make it as big as possible and make more people feel as welcome as i felt the first time and give them the best experience. ❤️🦋
Bruno Moses
psychology
Tachchen! What's up! My name is Bruno and I'm a new member of FAM's wonderful events committee. I study psychology at the VU
 I'm originally from Germany 🇩🇪.
I joined FAM for several reasons: As a white, heterosexual cis-male from a high-SES background, I have never experienced any discrimination. And while I always deemed myself to be a very inclusive and tolerant person, last year I realized that I was also contributing to social inequality when I started to educate myself more about this issue. That made me recognize how immense of a problem social inequality is and how even myself, who never intended to do so, also contributed to these problems. I hope that through my work and effort here at FAM, I can instead play a role in creating a more equal world. Moreover, I believe that being an active member of FAM gives me not only a great opportunity to grow as a person, but also to contribute to a community that cares about the well-being and inclusion of everyone. And lastly, I just loved the vibe the association gave off from the very first time I came into contact with it. I'm looking forward to an exciting time!
ZEINEB ALHAKIM
LAW IN SOCIETY
In my free time I like to travel, read about literally everything, paint and I dabble in photography. I am someone who likes to try out everything and am curious to a high level!
I speak Dutch, Arabic and English. Although I was born and raised in the Netherlands, I am also the daughter of two Iraqi immigrants
Growing up, I always felt that I was too "Iraqi" around Dutch people, but also too "Dutch" around my own people. Therefore I used to spend a lot of time trying to decide to which one I belong most. At some point I decided…I don't have to pick just one culture, I can be part of more. That is why I joined FAM, to be around like-minded people who also just enjoy learning about other cultures, stories and perspectives. It would be wonderful to help build a platform where one can be who they are and where diversity is applauded and appreciated